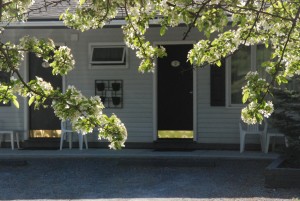 The Harwood Hill Motel was built in 1937 to serve the first wave of American vacationers traveling into the countryside by motorcar. Over the years, it has changed hands a few times, but maintained its harmony with the beautiful surrounding landscape. Today, the motel is evolving alongside the town of Bennington, where a vibrant arts community flourishes.
The property was purchased in the autumn of 2014 by a foursome of lifelong friends with a love of the arts and a dream of creating a special place filled with both natural and crafted beauty. Pamela, a writer & filmmaker; Janet, a visual artist; Alex, a jack-of-all-trades; and Martha, a technical writer & editor. Our vision preserves the tradition of providing respite for travelers while showcasing the works of local artisans and artists alongside our own collection and the work of our artist-in-residence. We have also forged connections with Bennington's museums and galleries, our renowned Bennington Potters, and a wide array of area galleries and shops to provide opportunities for our guests to explore the local art scene.
Join us at The Harwood Hill for a unique arts experience that reflects Vermont's magical blend of progress and tradition. Venture out to discover Bennington's many charms and explore its history. Or relax, picnic by the grill, or stroll with your friends on our lovely grounds in the shadow of Mount Anthony.